WELCOME ON MY BLOG
I was born during the fall of 1977 in Thonon-les-Bains (France), on the French shore of the Leman Lake (mistakenly a.k.a Lake Geneva). My interest for the Nature led me logically towards fishing.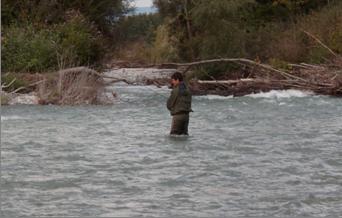 A lot of people were telling me to study instead of going fishing. Others were telling me that would never do anything with my life if I didn't work hard at school!
Today, my situation is at the opposite of their predictions for my future, because fishing brought me a lot, especially in my work as a landscaper, I am self employed.
I practice fishing today mostly in a river that has its roots in the hearts of the French Alps, more precisely in the Chablais. Its stream gets stronger after 3 rivers join to give birth to the « Dranse » that ends its run in the Leman Lake.
As early as 7 years old, I was already crossing that river, sitting on my father's shoulders. As he was fishing, I was running after little insects, lizards that were getting some heat on the stones. I've been fishing in many different rivers… but none of them is worth MY river in which I grew up.
From all point of view, it is the only one of its kind: it's freshness, its stones, its cliffs, the color of its water, its smell, the noise of the water hitting the stones and its big trouts… which make me crazy… « This is river runs in my veins!!! »
In life, you can never get back what you lost. All the time I've spent to observer the nature near the water is priceless, and I would never sell it!!!
This is why I have so much fun today.